Fresh Water for Flowers (MP3 CD)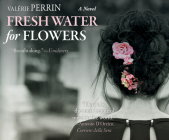 List Price: $22.99
Our Price: $20.69
(Save: $2.30 10%)
Staff Reviews
---
This isn't a new suggestion. It was suggested a while ago in the summer --just after we went into quarantine. I couldn't put this book down.  It struck all the right cords. I've resurfaced my suggestion because it is out in paperback!  Enjoy!  BUY THE BOOK.
Fresh Water for Flowers by Valerie Perrin
"Warbler, if you fly above this tomb sing him your sweetest song."
Fresh Water for Flowers reads like a French film, conjuring pleasures and sensations with mention of orange blossoms, jasmine tea, and cedars.
Perrin gives us - Violette.  She grabs your hand and pulls you along through the story of her life and others. You could be a friend or one of her visitors - drinking her coffee and wine, eating omelets as you go along weaving in and out - past, present, past again, then present.
She introduces you to her "neighbors" bringing around some importance to their lives by personalizing each one with their dates (1954-2007), their names, and occasionally their epitaphs. She shares her joys and her pain. When you're not right alongside her, it's like you're reading her diary. 
As a cemetery keeper, her life is quiet and she's surrounded by the dead and the families and friends of the dead who come and go. Plus gardens and music. That's what the story is to me ... beautiful and mundane. A reminder of how every moment of the day makes up our lives and how we choose to see it makes all the difference.  The flowers, the quiet, the pranks ... It almost makes you want to be a cemetery keeper.  Almost. 
The book is written in short chapters that are engaging and remind me of paint-by-numbers. New colors and continuations build, giving you more and more along the way for a full picture. 
With a little romance, unexpected grit, poetic quotes, songs, heartbreak, and the business of keeping a cemetery, the book is arrhythmically arranged ... but it works.
"We think that death is an absence, when in fact it's a secret presence."
July 2020 Indie Next List
---
"Valérie Perrin's Fresh Water for Flowers is gorgeous. Reading it was almost like being baptized by Violette's presence as a cemetery keeper, in its comfort, stability, and floral surroundings. Perrin takes us into the pool of Violette's melancholic past, from first loves to devastating losses. It truly gripped each and every one of my emotions, from fear and sorrow to elation and sentimentality. Whatever I can write as a review, this book is still so much more. I'm so thankful to have read it and can't wait to share it with readers."
— Cat Chapman, The Oxford Exchange, Tampa, FL
Description
---
Violette Toussaint is the caretaker at a cemetery in a small town in Bourgogne. Casual mourners, regular visitors, and sundry colleagues--gravediggers, groundskeepers, and a priest--visit her to warm themselves in her lodge, where laughter, companionship, and occasional tears mix with the coffee she offers them. Her life is lived to the rhythms of their funny, moving confidences. But her routine is disrupted by the arrival of the local police chief, who insists on scattering the ashes of his recently deceased mother on the gravesite of a complete stranger. Soon it becomes clear that his inexplicable gesture is intertwined with Violette's own difficult past. With Fresh Water for Flowers, Val rie Perrin has given listeners an intimately told story that tugs on the heartstrings about a woman who believes obstinately in happiness, despite it all. A number one bestseller in France, it is a heartwarming and tender story that will stay with listeners long after they finish it.